Home
>
Crystal Beach Information
> Vacation Condos
Destin Florida Vacation Condos at Crystal Beach
Book Discounted Crystal Beach Condos & Hotels
On TripShock.com Today!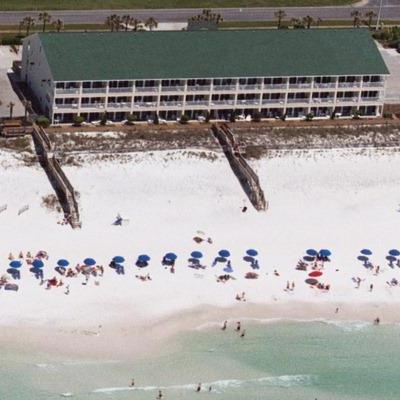 Crystal Beach Florida Vacation Condos, & Properties on the Destin Oceanfront
The gulf of mexico at your back door, white sand, emerald green water, you can see why they call this area the emerald coast. Crystal Beach is a short drive from downtown. You will find lots of convenient shopping, and many area restaurants nearby, but you will still feel secluded. Many of the vacation adventures you see in destin are also available here as well. This community has several vendors offering jet ski rentals, sailing, kayaking, and cycling. If you are on the beach early in the morning, or in the late afternoon, you may see a large school of dolphins that swim up and down the beach. If you don't see them try a dolphin cruise.


Crystal beach is located near shopping, and several restaurants are on crystal beach itself. Of course you are convenient to destin harbor and all of the fun things to do there. There is a beautiful beach here, complete with sugar white sand, emerald green water, dolphins, sea turtles, and the occasional skate.
Bicycle riding is a favorite pastime with visitors and local folks alike. There are paved bike paths, well off the roadway, that run alongside the beach. If you feel adventurous you can ride north at Hutchinson street to the bay, and even across the bay, as there is a bike path on the mid bay bridge. If you ride north on Mathew blvd. instead, you will find another path leading to henderson park, and into town.
You will find that crystal beach rentals include properties on the water, and those that are near the water. Some of the properties near the water may be several blocks from the water. We will try hard to provide the distance to the beach in the property description. These two categories are listed separately for your convenience. Just click the appropriate button below, to see the condo rentals in each category. Note at this time we have hardly any rentals in this section.