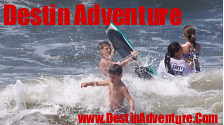 Destin Florida Vacation Rentals
Restaurants, Shopping, Attractions And Fun Things To Do.
Destin Florida Vacation Rentals And Fun Things To Do
At this point in time several beaches have no vacation rentals at all. Rather than have you wander around from one beach to the other looking for a vacation rental, we have created this destin florida vacation rentals short cut. So you can see everything right here if you are in a hurry. Of course this information is also on the beach it belongs to, we are just trying to make it more convenient for you.
One Of The Destin Area Beaches

One Of The Destin Area Beaches

All of The area beaches have white sand beaches, and emerald green water. This beach is a favorite of area visitors.
You can take a quick tour of the area beaches here and see where to go and what to do.
Every beach is it's on unique community, and has shopping, restaurants, and fun things to do. Of course if it is fun things to do that you are interested in, Destin itself is packed full of vacation adventures. Destin area beaches are oriented toward families, and that is why Destin is such a popular family vacation spot.
Much of our site is devoted to the great family activities in our area. You will find that almost everything is affordable, and you can find the price for most activities right here in Destin Adventure. We hope you enjoy your vacation or holiday and we hope you will become a "regular".
If you entered our site from this page you aren't seeing the complete page, click here to see the complete page
Destin Beaches | Destin Attractions | Florida Hotel Directory
Destin Beach Wheelchair Rentals For Your Florida Vacation | Visit Watercolor Beach
Short Cut To Site Directory and more destin vacation rentals