Home
>
Inlet Beach
> Shopping
Inlet Beach Vacations And Shopping
Book Inlet Beach Things To Do Online
with TripShock.com!
<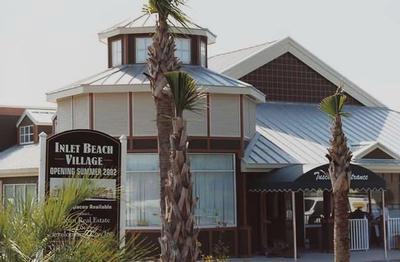 Shopping in Inlet Beach Florida
Yep, it's the same photo, the restaurant and the shopping are going to be in the same building. Folks who are regular visitors to inlet beach will no doubt appreciate this new development, as there was no shopping until now. Since we were last here two new shopping centers have been built at panama city beach, which is just a few miles to the east. So if you need to do some serious shopping, you will find it pretty convenient here. I am sorry we can't comment more on the place in the photo, but every time we get here we need to get back to destin, and our time is limited.

If you come here on your destin vacation, Inlet Beach is the last of the beaches of south walton. It is also at the end of the vacation highway, C-30A. The highway runs back into US Hwy. 98 about a mile from inlet beach. From there it is only a short drive on into panama city beach, and front beach road. Just as you get to panama city beach you will see two shopping centers, one on either side of the highway. Panama city beach also has a walmart.