Home
>
Inlet Beach
> Vacation Houses
At Inlet Beach A Destin Area Beach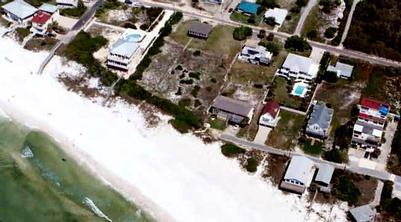 Destin Area Vacation Rentals At Pretty Inlet Beach
Inlet Beach Florida has all sizes of rentals. You won't find many Mediterranean style houses so popular at other beaches. Inlet beach is the eastern most beach of the beaches of south walton county, and is the last of the destin area beaches. It is much closer to Panama City Beach than it is to destin, and if you have any extensive shopping to do that is probably the best place to go. However, destin is an easy drive, and is only around 25 miles to the west. If you are looking for a nice peaceful place to decompress, this is it. The loudest noises you normally hear out here is the sound of the surf, and sea birds. If you decide you want some action, you are only about 10 miles from panama city beach, spring break mecca. You aren't far from Rosemary Beach, where you can rent bikes, and find restaurants. This beach hasn't really been discovered by the tourism industry.

There are no commercial establishments on this beach. It is totally dedicated to a peaceful co-existence with nature. If you are looking for a place to get away from it all, this beach is a good choice. However, even though it seems so very remote while you are there, it really isn't. Shopping, entertainment, and dining are just as convenient as at any of the other destin area beaches.

You are only minutes away from panama city beach, the spring break meca of the free world. If that isn't what you are interested in, don't worry, you won't know it is there unless you look for it.