Home
>
Watersound Beach
> Vacation Homes
Condos And Luxury Vacation Homes At Watersound Beach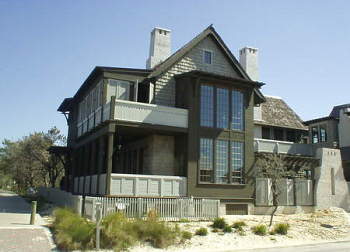 Luxury Vacation Homes in Watersound Beach
We don't know anything about the homes for sale, prices, or sizes. We have only presented this information to make you aware of it. If you are interested in buying a home here contact the St. Joe Company directly. We have provided a link above for your convenience. If you are visiting the area a sales office is on site.

This developer has embraced nature, and is working hard to preserve this area in it's natural state. There are many interesting plants and animals that are unique to this coastal environment. The walkways you see here let you explore the wonders of this fragile ecology without damaging it.

This is going to be a very large development, complete with a golf course and about any kind of amenity you could imagine. It will be convenient to shopping with a new shopping center at seagrove beach. It isn't far from panama city beach, which has shopping and all sorts of things to do.

Of course it is a fairly easy drive back into destin as well, where you can find all kinds of vacation adventures. You can probably tell about what to expect by observing watercolor beach, which was built by the same company. I have an idea that this development is going to be even more upscale than watercolor. It seems to me to be much larger as well, but I may be wrong. We have provided a link below, which will direct you to the St. Joe Company website, which should answer all of your questions. If you are interested in exploring other destin area real estate opportunities, just click the link below.