Home
> Crystal Beach
Crystal Beach Destin Accomodations, Shopping, Restaurants, And Fun Things To Do
Book Crystal Beach Things To Do Online
with TripShock.com!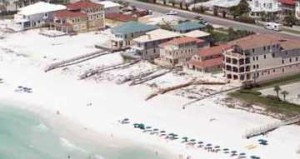 Crystal Beach Destin Homes
This community has had extensive development, but it is still very pretty, and has lots of good Places to shop, eat, and have fun. There are only a couple of small strip centers on scenic gulf drive, along with a few scattered stores. The major shopping centers are at the east and west ends of scenic gulf drive, back on US Hwy. 98. There is a laid back atmosphere here, but it is a lot busier than the other beaches of south walton.


here are two large shopping malls on US Hwy. 98, at the west end of Crystal Beach. One of these shopping centers has a large grocery store, and you can find about anything you will need in one of these malls. This community still has a lazy laid back atmosphere, despite being at the edge of all of this action.
There are two or three high rise condos, but most of the developments are either small condo complexes, motels, and individual beach homes. The archetecture is a mix of old florida style, and older homes, which are probably the homes of local folks commuting to destin. A good many local residents live on here, but everybody dresses pretty much the same, and it's hard to tell them from our visitors.
Destin once had a really neat fishing pier on this beach, but it disappeared back in the seventies, a victim of a hurricane. The Old Pier Motel, is near the location of the pier.
If you cross the road to the beach at the old pier motel, you can still see the pilings that supported the pier, out in the gulf. This is a good place to snorkel, and has been a good place to surf.
The east end of Henderson Beach, Crystal Beach, and Miramar Beach all lie along this stretch of scenic gulf drive. The visitor will not be able to tell where one beach ends and another begins, as there are no signs. If you have any thing delivered, make a note of which beach you are on, as it is a bit of help to the local people. That information should be included in the driving directions you get from the rental agency, or home owner.
There are three nice sea food restaurants on the beach, and several smaller ones. At the east end of miramar beach, back on hwy. 98, there are some fast food restaurants. Of course you are only a short drive into destin, which has many restaurants, including fast food places, and one buffet.
The Track.htm, and Big Kahuna's.htm are on hwy. 98, on the way into destin. The Gulfarium is near Fort Walton Beach, on Okaloosa island, which is about 15 miles west of miramar beach, on hwy. 98. You will find most of the other destin vacation adventures around destin's harbor. You can rent hobie cats along Scenic Gulf Drive.