Home
> Watersound Beach
Beautiful Vacation Homes At Watersound Beach
Book 30-A Things To Do Online
with TripShock.com!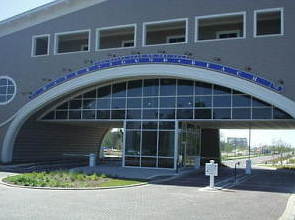 The Entrance To The Watersound Beach Development
This is a big building, just as you enter the property, and the entrance road passes underneath. It looks pretty neat. I suppose it will be one of the administrative buildings, and houses the sales staff at this time.

Watersound has a lot of room for expansion, and the community facilities such as swimming pools, walking and bicycle paths, walkways to the beach, and such are in work. Although this area is removed from the other beaches, such as seaside and seagrove beach, it is still only a short drive to the new shopping center at seagrove beach.

It is located between seagrove beach and rosemary beach, so it is also fairly convenient to shopping at panama city beach, I haven't measured the distance, but would guess panama city beach to be bout five or six miles away.

It is going to be a very pretty development, and should please all of you who are looking for seclusion, but want to be convenient to shopping and medical facilities. It will certainly become a favorite vacation destination in a few years.

This new development is being built by, the Saint Joe Company's real estate division. They are the same people who built Watercolor, and it looks as if this development may be even more impressive with many luxury vacation homes.

Watersound is east of seagrove beach, and it also adjoins the pretty coastal dune lake with the rustic cabins in the seagrove beach section of our site. It is going to be a large development, and it will be interesting to watch it come together. If you are looking for luxury florida vacation homes, or a comfortable retirement home, or vacation development, you may find it here.

If you would like more information about water sound you will find links below for more photos. The photos don't really do it justice, you have to see this development and walk on the pretty beach to really appreciate it. This is one of the prettiest parts of south walton county, and of course it has a beautiful white sand beach.

If you are looking for a place to rent, try our Florida Hotel Directory, which also has rental properties at seaside beach, which is nearby.