Home
>
Destin
> Houses
Houses Near The Destin Harbor
Book Discounted Condos & Hotels
On TripShock.com Today!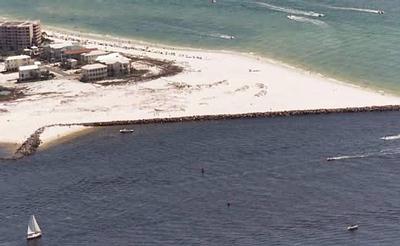 Destin Beachfront Renals
Like the destin condos, many destin rental houses may be on the harbor, instead of the beach. So destin real estate can be on the water, but not on the beach. The Destin Fl Area Has The Best Florida Beach Houses!

Destin Vacation Rentals
As you can see from the photo, it is a very busy waterway. The East Pass is the darker colored water. The sand spit is the west end of Holiday Isle, a popular tourist destination. The lighter colored water at the top of the photo is the gulf of Mexico. Sometimes high surf in the gulf of Mexico makes the transition from the East pass to the gulf really interesting.

People who want to be near the charter fishing action, and vacation adventures often chose Holiday Isle as a destination. Our new all florida hotel directory has many destin area hotels at the best florida beaches listed. Wherever you stay in destin, you won't be far from the water, or vacation action.