Home
>
Destin
>
Attractions
>
Parasailing
> Gilligan's Watersports
Gilligans Watersports Does it All!
Book Gilligans Parasailing on TripShock.com
Gilligans offers parasailing, dolphin tours, waverunners and pontoon rentals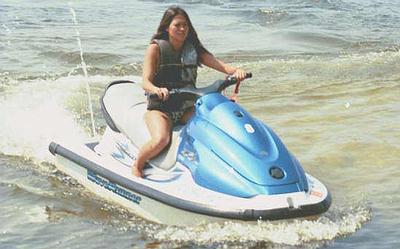 Like to run your own show? Be the captain of your own ship? Rent one of Gilligans Pontoon boats and fish, snorkel, or cruise at your own pace. Move your floating party out to Crab Island for the noon bash!

Parasailing is probably the sport most visitors are interested in. It's great fun and a piece of cake with the professional crew at Gilligans. In the early days you had to run down the beach until the speed boat had enough speed to get you off the ground. No more, a winch on the boat let's you out, and pulls you back in when your ride is over.

Wave runners are a popular rental at Gilligans, and they aren't hard to operate. The folks at Gilligans have a nifty instructional video, plus some one on one instruction to get you up to speed. Yehaa!

Launch your Destin Adventure at Gilligans Water Sports! Gilligans also offers dolphin tours on wave runners. Get up close and personal with the Destin dolphins! Each wave runner will carry 3 people, and the charge for this really neat trip is only 80.00 per wave runner. If you plan to operate a wave runner be sure and bring a photo ID with you, as insurance requires it!

If you plan to drive in from one of our area beaches and make a day of it, don't forget to make your dinner reservations at Gilligans Restaurant, the place for sea food in Destin. Gilligans rental kiosk is right next door from the restaurant. There are also specials and happy hours at the restaurant! Click here for restaurant info.