Home
>
Destin
>
Attractions
> Surfing
Surfing At Destin Florida
Book a Surfing Activity in Destin, Florida
on TripShock.com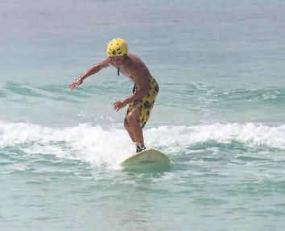 The best surfing is in the spring, fall, and winter. During the summer the gulf is usually pretty flat, although there usually is a few days of surf.

If you should come in the winter bring your wet suit as the water will be cold. Bring your own board too as they are hard to rent.

Unless you are an experienced surfer, pick a day with small surf that is breaking clean. See Photo. If your children want to try this sport, always supply plenty of adult supervision. Everyone who surfs should be a strong swimmer. Please supervise small children closely and observe the beach warning flags! If you would like to learn more about destin ocean sports, including surfing and skimboarding, we have provided a link to a local surfing website, above.