Home
>
Santa Rosa Beach
> Shopping
Destin Area Visitor Shoppers Guide
Book 30A Florida Things To Do
Online with TripShock.com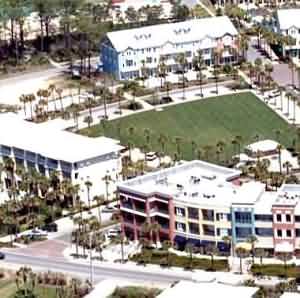 Dining, shops, and entertainment are available at the community center
The community center has shopping on the first level, and vacation rental units in the upper stories. You will find destin vacation houses nearby. A public park is across the street on the beach. There is an open air pavillion that has live music and other events from time to time. This community is home to many area residents, including the crew of Destin Adventure. Everyone loves its laid back feel, and convenience to everything. It's far enough away from destin to avoid all of the hustle and bustle of that place, but close enough that shopping and other activities are convenient.

The proper name for this business complex is Gulf Place, and it is still growing. It blends in nicely with the beach, and is an attractive development. It is also convenient and, just across the road from the county park, which has a public beach access. If you play golf, the Country Club is within easy walking distance of the community center above.

What do we like about our community? Well, it has a couple of nice public parks on the beach, a lake, a paved bike path that runs for over 20 miles, a convience store, and several restaurants. Of course it also has a gorgeous white sand beach, and the emerald green waters of the gulf of mexico. It is a pretty place with nice houses and vacation condos galore.

The community of santa rosa beach is only a couple of miles away, and it has a dentist, post office, shops and service stations, and more good restaurants. Destin itself is only 7 or 8 miles away on a good 4 lane highway. Several big new malls have opened in destin with good shops, restaurants, and movie theatres. We local folks participate in the vacation activities in destin from time to time. Who could ask for more?