Home
> Santa Rosa Beach
About Santa Rosa Beach Florida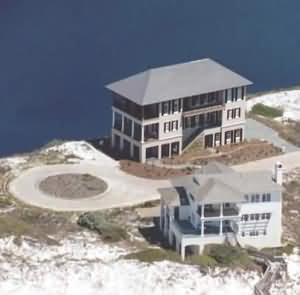 Resort Vacation Homes and at Santa Rosa Beach
The shopping complex at Santa Rosa Beach is fairly new. There is also a community of Santa Rosa Beach, which is a couple of miles north of the beach, along U.S. Hwy. 98. It is there that you will find the U.S. Post office, more Restaurants, shopping, plus a dental office. Much of the development on the beach is new, but you will see some older homes, as this beach is home to some local people also.

There is a pretty little church on county road 393, just a short distance from this shopping complex. The pastor and congregation are very friendly, and make visitors feel welcome. You are requested to wear casual attire. You will find other churches in the community of Santa Rosa Beach.

Beaches Of South Walton Are Near Destin Florida
Santa Rosa Beach one of the beaches of south Walton county, about 8 miles east of Destin, along county road CR-30A. It is fairly close to downtown Destin, which is eight or nine miles away. You can find vacation condos here at reasonable rates. If you decide to go into Destin for some major shopping, or to participate in some of the fun activities for Destin vacations, you will have a short drive. The next beach community is Blue Mountain Beach. There you will find the Sanctuary At Redfish Beach Resort Destin Florida.


If you enjoy the beach you will love Blue Mountain Beach. It has a remote, secluded feel about it, although as you can see, there is shopping, restaurants, and fun things to do here. It has about anything you will need including a new Publix grocery store about a mile east of CR 393, on highway 98. For most of the vacation adventures, such as parasailing, and dolphin cruises, you will have to drive into Destin, which isn't a bad drive.
Sports At Santa Rosa Beach And Other Area Communities
There is an excellent bike path which runs along county road C30A, and is being extended into Santa Rosa Beach. It is still in work in some places, but when complete, will allow you to ride from the county line at Miramar beach, Florida, all the way to Inlet beach, without getting on a roadway. This is a distance of around 27 miles. You ride about 20 feet off the roadway, along side woods and small lakes. There are some wooden bridges crossing the lakes. The western part of this path into Miramar beach hasn't been started yet, and the eastern portion is in work as this is being written. If you have bikes, do bring them if you have room. If you don't have bikes, or room to bring them, you can rent bikes at reasonable rates locally.
Kayaking is also a popular sport, and you will find that it is easy and extremely enjoyable. You can see dolphins, sea turtles, and other marine creatures in the crystal clear waters of the gulf of Mexico. If you don't own a kayak you can rent them locally as well. Most of the rental operators rent sit on top kayaks, which are easy to learn to use. Local rates are very reasonable. When you rent your Destin beach condo, set aside ten percent for fun rentals.
Snorkeling is another popular activity because of the exceptional water clarity. Although we are too far north for coral reefs, most people still find it an enjoyable activity, as there are marine creatures to see here.