Home
> Watercolor Resort
South Walton County Beaches at Watercolor 30A
Book 30-A Things To Do Online
with TripShock.com!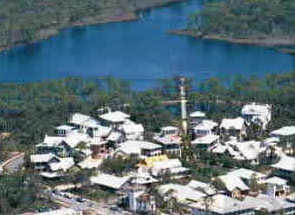 Vacation Fun at Watercolor Resort on 30A
Watercolor is a development of the real estate arm of the St. Joe Paper Company, as is Watersound, another new development (Still under construction).

Watercolor Beach lies on county road CR-30A, and is one of the beaches of south walton county. The narrow two lane widens out into an impressive avenue as you enter watercolor. There is a town square with the shops, and restaurants around it. This is a really nice looking development.


The bike and pedestrian path that runs along CR-30A passes through watercolor, and watercolor has built a hard surfaced path in addition, that runs around the lake. It is a nice walk, or bike ride, whichever you prefer. The restaurant has some tables outside, and when you drive by you can see people relaxing there.
The landscaping is great, and I never cease to be amazed at how good the people are who do that work. When they finished, it looked as if this development had been here for years. All in all it is a good piece of work.