Home
> Watercolor Resort
South Walton County Beaches at Watercolor 30A
Book Watercolor Things To Do Online
with TripShock.com!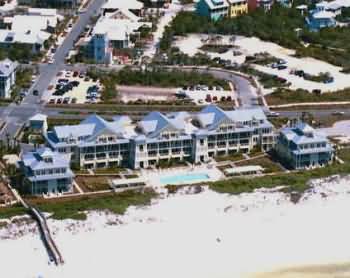 Vacation Home Rentals In South Walton County
Watercolor is a new planned community. It was still under construction when the arial photo was made. It is near the end stages of development now. It is a very pretty and convenient beach side community. It even has it's own shopping center, complete with a Publix grocery store. There is one of the pretty coastal dune lakes inside the development, that contributes a lot toward fun things to do. If you are looking for a destin beach condo or destin beach houses this is a good place to start.

If you get bored it is about the same distance from destin or front beach road in panama city beach. There is a bit to see in the general area. You are just a short drive from Eden State gardens at Point Washington. They have an old mansion on the bay you can tour. On the way you will pass a state forest that has bike and hiking trails.