Home
>
Area Beaches
> Holiday Isle
Destin Vacation Condos At Holiday Isle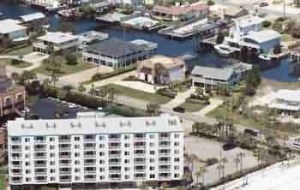 Holiday Isle
This beach has had extensive rental development, but it is still a very pretty beach, and there is shopping and restaurants at the small shopping center near US Hwy 98.

Of course it is only a short bike ride on into destin, where you can find about anything you need. When you get to US 98, turn right, and The Track, and Big Kahuna's will be on your left. Turn left, go through destin, and the Gulfarium is about 10 miles ahead, at Okaloosa Island.

Destin looks kinda like a tourist trap that has grown up, but it is a pretty neat place. There are vacation homes, trendy shops, great restaurants, and most of the other types of businesses you will find in any small town. As a whole, you will find the local residents kind and helpful. Most of the people involved in the tourist industry will bend over backwards to help you do anything you want to try.

The people on the fishing boats will help you bait your hook, offer advice, and work hard to make your trip fun, and successful. As Holiday Isle is just across the harbor from destin, you will find yourself going into town often, although there are enough restaurants and shopping in the area to accomodate most of your needs. The small shopping center I mentioned before, will be on your right, just before you get back to US 98. It is a neat place, and pretty attractive.

If you don't find what you need there, turn right at US 98, and you will find several large, new shopping centers, Destin florida continues to grow by leaps and bounds, with many retired people moving here also. All of the beaches are growing, but you can still find solitude on any of the destin area beaches. Although Holiday Isle has a lot of high rise rental condos, the traffic on shore drive is usually fairly light. I guess everybody hits the beach when they get here.

I can't say the same for destin florida traffic. It is a very busy place during the season, and many people prefer to ride bikes into town, rather than fighting the traffic. That is one thing that makes the places along shore drive nice, you don't really have to go into destin, as it does have it's own shopping and restaurants.

Destin has some annual events which are popular with residents and visitors alike. There is a seafood festival and the annual fishing rodea. Many of the local restaurants participate in the sea food festival, and you can survey the cusine of most of the town in an evenings walk. Check with the destin chamber of commerce for times and dates.