Home
> Seagrove Beach
Beach Rentals And Fun Things To Do In South Walton County
Book
Seagrove Beach Things To Do Online
with TripShock.com!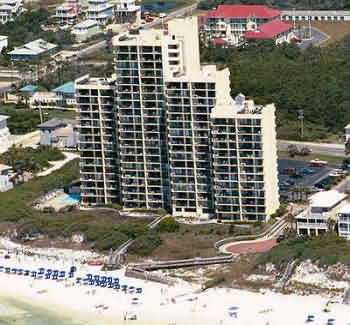 Vacation Beach Information at Seagrove
Seagrove is roughly halfway between Destin and Panama City, (About 23 miles from destin). If you are into night life you are a short drive from spring break paradise, Panama City, Florida. Seagrove beach also has destin beach houses, other rental properties, and many vacation condos smaller than the high rise in the photo. Thanks to a new shopping center built for the watercolors development, seagrove now has good shopping. The shopping center is about a half mile north on county road 395. Click here for destin florida vacation and resort rental information

Seagrove Beach is near Eden State Gardens which boasts a mansion built in the 1880's, it has very pretty grounds. Eden State Gardens is a nice day trip, and if you have a kayak, it is a nice place to paddle. Eden state Gardens is located at Point Washington. To go there take county road 395, and continue on until you see the signs. Just go on to the end of 395 to get to the put in point for kayaking.